Greetings and felicitations, gentle readers:
Beginning with the "Queen Abigail the Wise" in 2016, I began a tradition of going through the weeks of Orthodox Lent, sharing thoughts and reflections as we all made the journey together (literary and Lenten). It made a lot of sense to do with that first book in the Every Tuesday series, since the action of the book takes place over the five Sundays of Lent. And so I fell into the habit of it with the next two books, even though the action of those takes place at other times of the year. I'm looking forward now to doing it with the fourth book, "Xenia the Warm-hearted," which offers so much opportunity for reflection that I don't quite know how I'll fit it all in.
But for anyone that would like to catch up on the first three books, or maybe just find out what was on my mind, here is the list of the other three read-along posts. On each, you'll find a list to take you through the book, and you can just read along at your own pace or try to follow my rambling idea of taking things through all the weeks of Lent. And if it's nowhere near Lent and you'd just like a ramble in any case, feel free. Enjoy!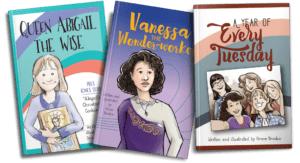 Queen Abigail the Wise read-along
Vanessa the Wonder-worker read-along