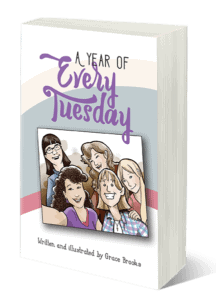 As I have done with the last two books, I'll be reading through this latest in the Every Tuesday series throughout the weeks of Lent. I hope everyone is enjoying "A Year of Every Tuesday." Since the book is a compilation of five stories, it divides kind of nicely for me. I'll tackle one of the stories each week, starting this Wednesday with "The Five Girls and the Elephant."
And this year, I'm going to be more punctual than in the past. If you're interested in reading along, I'll have a new blog post up every Wednesday by 3 pm (PST). For a variety of reasons, it's a little harder to reach all my Facebook fans this year, so I'm committing to a timetable. Check back every Wednesday for the next installment.
For right now, let me offer a little perspective on this book and the opening segment. As I said in THIS POST, there were some reasons why doing a series of short stories about the Every Tuesday Club (ETC) was a good idea this time, but I wanted something that linked them all together. As we'll see over the course of the book, there have been some changes for the girls, and having an excuse to do a year in review seemed like one way to focus on a few bigger things.
As we begin, though, we see that we're in for a bumpy ride. Spending an rainy Sunday in August in the family room with your friends doesn't sound like such a big deal ( — actually, it sounds rather fun to me, since I live in an arid region — ) but Maggie appears to be in a very bad mood over it. And her mother's attempts to be friendly don't seem to help much.
"That is so nice of you, girls. Maggie, you can use that rag from the treadmill to clean up the puddle. Make sure to keep all of Violet's socks separate from Sammy's, though. His are the argyle ones and …" She straightened up and threw a surprised look at her daughter. "Maggie … the water?"
There was a silence that went on just a little too long.
"I heard you," muttered Maggie, without moving.
Can this be Maggie-May? Abigail's best friend, who is so sweet and well-behaved? The girl from the Peasle family that is always so lovely and nearly perfect? What has gone wrong?
That's one of the things we will have to figure out. We'll join the girls as they go over some of the highlights of their year together, and besides coming along on some adventures, we'll come to see why this has been a difficult year for Maggie.
See you on Wednesday for thoughts about "The Five Girls and the Elephant."