Calloo, callay. O frabjous day …
Or something like that. We made it! Through the "bright sorrow" of Lent, the fasting and sober reflection. Then Holy Week — following the painful path of Christ's betrayal, arrest, death and burial. But you know what's coming. We go through those long days but all the time, there's that sense of expectation, like a thrumming in the background, whispering the words the demons must hate most of all — "Christ is risen from the dead, trampling down death by death."
So we can finish up Abigail's journey now as well. Her Holy Saturday went hard for her — after finding out the truth that Vanessa had been trying to hide, Abigail had to go to extreme lengths to attempt to save her. It emptied Abigail out, and she went back to her room and cried more from a sense of aftershock than anything else.
However, the shocks and tears are about to change. Just like Pascha lurking in the background through the worst of Holy Week, there is a kind of shift that has taken place, even if Abigail doesn't realize it yet. When she set out at the beginning of Lent, her thoughts about doing something for others — "helping people with people problems" — were vague and untested. Fr. Boris wasn't completely wrong to observe during Abigail's confession that starting a girls club in order to get a coveted icon might have been a little selfish.
The pretend icon and the real one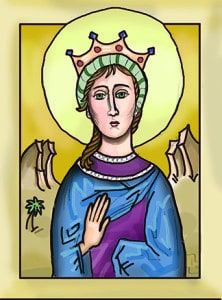 But what Abigail started for vague or selfish reasons became a vehicle of God's grace, for Abigail and the others. And there's a detail that points to that, though it escapes Abigail's notice at the time. When she wakes up from sleep on Holy Saturday, she looks around briefly for the sketch of the icon that she drew, but she can't find it. That's because her drawing was just a placeholder — a marker for the icon that was such a beautiful prize to her. She doesn't need the imitation anymore, because the real one is waiting for her.
First of all, though, some things have to be revealed. Getting called to meet Fr. Andrew along with her parents might sound like about the worst thing that could happen, but that tense conference room becomes a room full of surprises. That's where Fr. Andrew is able to tell the girls — and hint to the parents — the act of love and self-sacrifice that they all participated in. And so the dreadful moments of confession lead directly to the ecstatic flurry of hugs and laughter in the minutes before the Pascha service begins.
And there is healing and understanding — finally! — between Abigail and Vanessa. They both had been antagonistic towards each other almost from the beginning. But the act of love they shared was bigger than any of their personal differences, and it's not just a whim that makes Vanessa and Abigail hold hands as they walk in procession — it's a visible sign of a friendship that has just started.
So it's a happy ending for them all. Fr. Andrew meets with Abigail just to make sure that she has some clear perspective … or maybe he has a little curiosity himself about how things happened. But mostly, he can present her with the trophy at the end of the race — a true hand-painted icon of St. Abigail, rendered with great skill and affection from an iconographer who was a little out of practice.
And so Queen Abigail the Wise ends just about where it began: Abigail in church (or near it), making up a song. But this time, she's not doing it because she's bored or distracted or feels as if she doesn't belong. She's doing it because her mind and soul and self are awake. They've been awakened by Lent, by Holy Week and Pascha … by the Church that had been speaking words of Truth to her that she wasn't ready to hear. She had to begin to give of herself before she could do that. I think it's a moment of truth that happens for all Christians — and probably happens over and over. But Queen Abigail is, at heart, just one story about how it happened for just one little girl.
Blessed Pascha to all!
Christ is Risen!
Indeed, He is Risen!